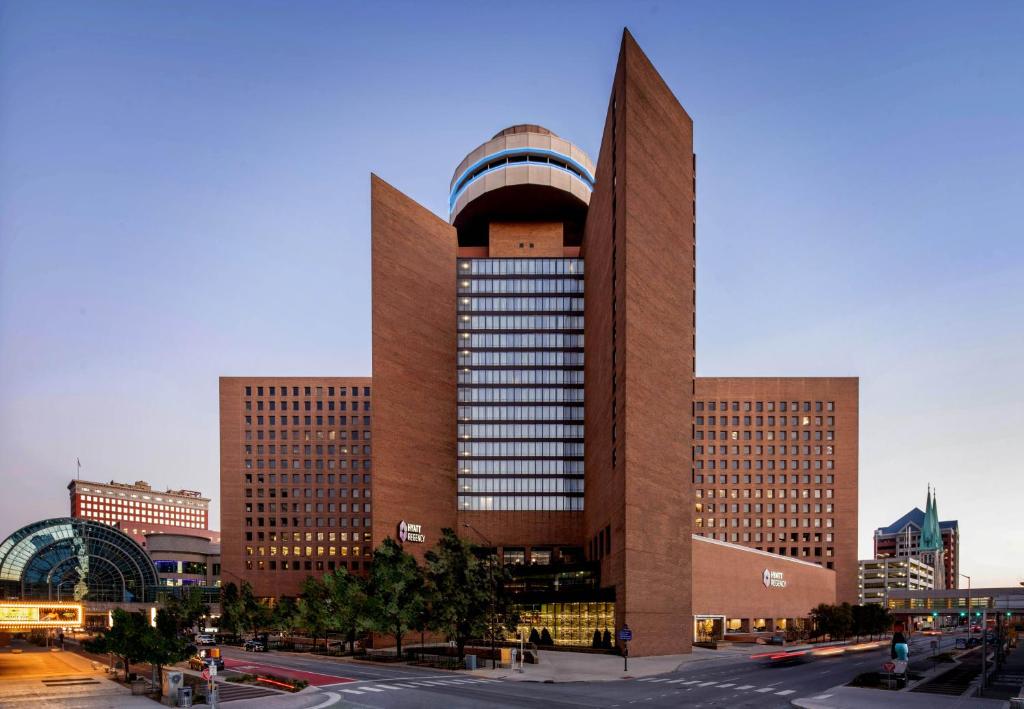 All Roads Lead to the Hyatt Regency
Feet from the White River and the Indianapolis Zoo, you couldn't ask for a better stay.
Beautifully designed and refined, Hyatt Regency is a contemporary downtown Indianapolis hotel conveniently connected to the Convention Center and just steps from Lucas Oil Stadium. The modern amenities at the hotel blend effortlessly with classic design elements, creating a comfortable oasis in the heart of one of the Midwest's most exciting cities with many exciting attractions nearby.
Overflowing with Amenities
Everything you need, the Hyatt has and more. Free internet access, on-site dining, fitness center, golf, and more make this a fantastic property.
Each hotel room and suite in feature plush Hyatt Grand Beds®, deluxe KenetMD™ bath amenities, free Wi-Fi, and a spacious work area. You will feel right at home with thoughtful amenities like a 49" LED HDTV, in-room refrigerator, coffeemaker, and CubieBlue Bluetooth music player and alarm clock.
Summer Con Sustainability Pledge
We recognize the crucial role that sustainability plays in shaping our future. As an organization dedicated to advancing energy efficiency and demand flexibility, we believe we are responsible for leading by example.
By collectively embracing this Sustainability Pledge, we can make AESP Summer Con a platform for inspiration, collaboration, and actionable steps towards a more sustainable future. Together, we can create a positive impact and leave a lasting legacy for generations to come.
We commit to the following to make AESP Summer Con 2023 as sustainable as possible:
Waste Reduction
We will minimize waste generation by working with the venue to implement recycling stations, promote the usage of recyclable/reusable materials, and provide digital alternatives to conference materials wherever possible.
We will reduce post-conference waste when feasible by donating conference materials to local community groups.
Responsible Transportation
We will encourage participants to use sustainable local transit options through pre-conference and on-site awareness campaigns. These options include public transit, carpooling, biking, and more.
We also encourage attendees to book their stay at the conference venue to reduce the need for daily transportation.
Sustainable Food and Beverage
Onsite, we will work with the venue to prioritize local, vegetarian, and seasonal options while minimizing single-use plastics and packaging waste.
Energy Efficiency and Renewable Energy
Our conference venue runs on 100% wind power and we will work with the venue to optimize energy usage by employing energy-efficient technologies and practices.
Continuous Improvement
We are committed to continual improvement. We will solicit stakeholder and attendee feedback, monitor impact, and implement meaningful changes based on lessons learned.
Your Hotel Guide
Take a cruise through the map below. We've marked major points of interest including the conference hotel, the closest airport, and more.
Hyatt Regency Indianapolis - AESP Summer Con Hotel
Safety Reminder
Always be vigilant against scammers. AESP will never reach out via a third party for hotel bookings, exhibitor/sponsor fulfillment, registration information, etc. We do not partner with anyone outside of the official host hotel or other partners explicitly called out on this site. If someone reaches out to you, please do your utmost to protect yourself and when in doubt, please contact AESP staff for assistance.